You are here :
Home

>>

Celebrate animals of Montmartre
Celebrate animals of Montmartre
Museum of Montmartre - Paris
Type : Workshop
Duration : 1h30
The animals of Montmartre, it's a long story!

Over the course of a fun visit to the museum or the Renoir gardens, depending on the weather, children can discover the various animals which inspired the most famous posters of the district of Montmartre.
Nothing about the Chat Noir and the Lapin Agile will remain a mystery for them.

This interactive visit is followed by a creative workshop during which children can let their imaginations run wild and bring out their creative side by putting into practice their artistic skills.
Drawing, painting, sticking, etc. there are no limits to how they create the animals studied during the visit or those they imagine themselves.

Each child plays an important part in this creative process.
A workshop which combines imagination, creativity, aesthet(...)
>> Read more
Min. billing : per person - Max per group : per person
For preferential rates related to age, proof of identity will be required. Access may be refused in case of non compliance with the age limits.
Good to Know
Bring a spare t-shirt
30 min of visit + 1h of workshop
Free access to supervisors under the following condition:
- 1 supervisor with free access for each group of 10 students.
In case of non-compliance of this condition, the access may not be allowed
Description Workshop Museum of Montmartre
The animals of Montmartre, it's a long story!

Over the course of a fun visit to the museum or the Renoir gardens, depending on the weather, children can discover the various animals which inspired the most famous posters of the district of Montmartre.
Nothing about the Chat Noir and the Lapin Agile will remain a mystery for them.

This interactive visit is followed by a creative workshop during which children can let their imaginations run wild and bring out their creative side by putting into practice their artistic skills.
Drawing, painting, sticking, etc. there are no limits to how they create the animals studied during the visit or those they imagine themselves.

Each child plays an important part in this creative process.
A workshop which combines imagination, creativity, aesthetics and fun!

Informations Museum of Montmartre
Address

Museum of Montmartre

12, rue Cortot

75018 Paris

Access

Metro: Lamarck-Caulaincourt (ligne12), Anvers, Pigalle (ligne2)

Practical information

Bar inside

Taxi stand
Other tours that may interest you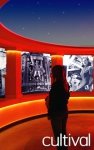 Grand Rex - Paris
Thanks to an interactive itinerary, Les Etoiles du Rex tour will allow you to (re) discover the back(...)
>> Read more
>> View all visits on the same theme